About Us
Author: Gold Coast Ute Tool Boxes Date Posted:11 December 2017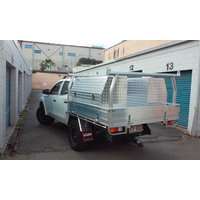 looking for a Tool Box to suit your needs at the right price?
We specialise in Functional, Aluminium tool boxes at competitive rates,
High quality marine grade aluminium tool boxes with attention to detail never fails to make an impression on customers and friends.
Elevating your business and helping you to stand out as a professional offering premium services.
Your Ute becomes a highly integral part of your services. With access to your tools and equipment at your finger tips, with your customers increasingly sitting up and taking notice of how efficient you are.
Who Gold Coast Ute Tool Boxes
Gold Coast Ute Tool Boxes, are a tight knit team of experienced specialists. Between us we have experience, expertise and qualifications that make us highly capable in the field of delivering awesome tool boxes.
Our passion is for making functional good looking tool boxes that create that proud feel of ownership. Giving you faith and confidence in the brand behind them.
We've become very good at knowing what works and what is possible to improve your efficiency. We know how much of a difference a great Ute -tray and tool boxes can make to the success of your business,
We love what we do, and we love helping small and large contractors, motor bike owners, start-ups and entrepreneurs to succeed.
We are committed to delivering fast ,efficient,quality products at comparable prices.
When you choose to work with Gold Coast Ute Tool Boxes you are choosing a quality service at the right price.
Openning Hours at 15/7 Newcastle Street Burleigh Heads 4220 07-5593-5358
Monday-Thursday 7:00-5:00
Friday- 7:00-4:30
Saturday 8:30-12:30
Sunday CLOSED